Brita Faucet Filter Reviews
Water is essential for life, and anyone aiming for a healthy lifestyle should drink lots of water. However, not all tap water is healthy for you, and even the best city water systems may have unfiltered chemicals resting in them. While many companies sell fresh and filtered water bottled, the expense of regular purchases can start to take a hefty toll on both your budget and the environment.
Water filters combat this problem by cleaning out chemicals, minerals, and other unhealthy items that may be in your tap water. One of your filtering options is Brita faucet filters.
Things to Consider When Purchasing a Faucet Water Filter
Before we get into our Brita faucet filter reviews, we're going to touch onto what you start looking for a filter to fit your home.
Filtering Mechanisms
Filters work by absorbing impurities and odor as the water passes through them, keeping chemicals and other unwanted elements from your drinking water. Different filters are capable of varying levels of filtering. Some will only catch the most basic of impurities, while others will clear out much higher percentages.
A conventional water filter material is carbon, which takes on the impurities by itself. Multistage filters can catch even more contaminants, such as lead, chlorine, parasites, pharmaceuticals, harmful chemicals, and bacteria. Reverse osmosis systems can produce some of the cleanest water.
What Contaminants Are in Your Tap Water
Since filters have different capabilities, you want to make sure the system you're getting provides the level of cleaning and absorption you need. Depending on the state of your tap water, you may need a more powerful and extensive filtering system. One of the most popular filter types is those that remove lead, while a filter that can handle chloroform is also capable of lifting several other contaminants.
When you have a specific chemical you need to be removed from your water, you can check the packaging to see if it has NSF certification for that substance. Several labs provide NSF testing that makes sure filters are following the standards of the industry, and these signals are your best bet that a system will work the way it needs to.
Flow Rate
When you get a faucet filter, your sink's flow rate will likely slow down. This result is typical since the system needs the additional time to clean your water before it comes out of the faucet. However, if it slows your flow rate too much, using the filter starts to turn into an inconvenience instead of something helpful.
You want to keep an eye on how the filter affects your flow rate, and a moderate to fast rate is the ideal. As some systems reach the end of their lifespan, the flow may also start to slow down. You can usually solve this problem with a quick filter change.
Compatible Attachments
When you attach a filter to your sink, you don't want to make a purchase and later learn that you've picked up something that doesn't even fit your faucet. That means you need to pay attention to a few of your options: you can make sure that your filter is the right size for your sink or that there's a compatible attachment to make it fit.
Most water filters fit standard size faucets, but that may not apply to your sink. Double check your faucet's size and compare to it to your desired model before you go too far.
Permanence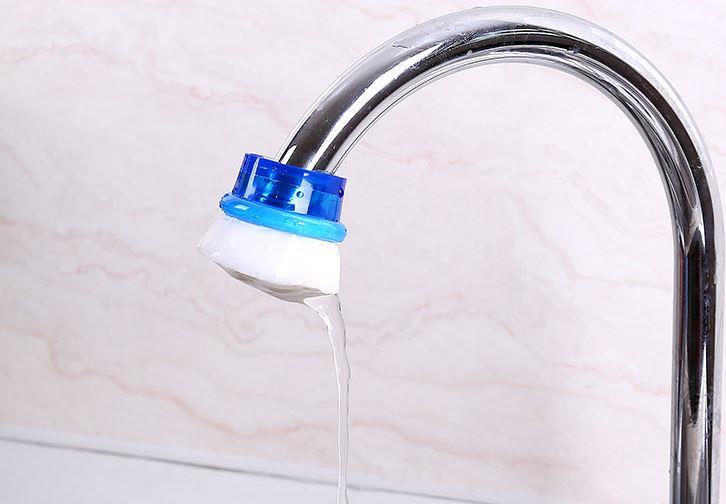 Faucet-mounted filters are generally not very permanent, and you only need to screw them on and off as you need them. This fact is fantastic news for people who are living in temporary dwellings, like dorms or rented living spaces. However, for people who do want a more permanent solution, a faucet-mounted filter may not do you as much good as installing an under-sink filtering system.
Brita Faucet Filters Reviewed
Brita has several different filter options, from pitchers to water dispensers. Today, we're going to be focusing on their faucet filters, which are attachable to your sink and filter water as you need it, which can be helpful for chefs and those who want a little more fast water than just a glass now and then.
What Are Brita Faucet Filters and What Do They Do?
Sale
Brita Basic Faucet Water Filter System, Chrome, 1 Count
Basic Brita faucet water filter attaches to your standard faucet making tap water cleaner*...
Get great-tasting water without the waste; by switching to Brita, you can save money and...
The space efficient design attaches directly to your faucet giving you the choice of...
As mentioned, these are faucet-mounted filters, so they attach directly to your sink and work from there. Brita has two of these available for purchase: the Basic and Complete filtration systems. As expected, the complete has a few more options (and a higher price tag as a result). The Basic option is available in white, while the Complete is available in both white and chrome.
Filtering Capacity
When you get a Brita faucet mount filter, you're getting a system that takes care of:
Lead
Chlorine
Benzene
Asbestos
Trichloroethylene
These are standard chemicals that most filters can handle, so you're not getting anything too fancy with Brita filters. However, this spread is more than enough to treat moderately contaminated water. If you have a much more contaminated water source, you'll likely need a more powerful system to do the job.
The filter itself is good for 100 gallons of use before it needs replacement. Whether this is enough for your sink is up to you. If you go through a lot of water due to cooking, the price of replacing filters will quickly outpace the functionality of Brita sink attachments, and you may be better off with a higher capacity system.
Installation
As a faucet-mounted system, Brita filters aren't very complicated to install. All you need to do is hook the product to the end of your faucet, and you're good to go. For people who don't want to fight with under the sink systems, this is an excellent, simple alternative to start providing you cleaner water quickly without any tools needed.
The trick with this is that, while the Brita faucet filters are compatible with most sinks, the included plastic attachment isn't the sturdiest. You'll have a lot less frustration if you also pick up a metal attachment when you're getting the filter, ensuring that it stays connected to your sink and doesn't disconnect at an inconvenient time.
Flow Options
The flow options are one of the primary distinguishing factors between the Basic and Complete system. When you get the Basic Brita faucet filter, you only have the default flow speed. This setting isn't a major inconvenience, but it may not be something you want to handle.
The complete faucet filter, on the other hand, has three options. You can select from filtered water, stream, or spray, giving you a choice in how you want your water to come through the filter.
Replacing Filters
Just like these filters install with little hassle, the filters replace with little trouble, too. You unhook the previous cartridge and snap on the new one. Filters are available in several packaging options, allowing you to buy in bulk and save some money.
Saving is essential because you are likely to spend a decent chunk of cash on replacement filters. Brita's faucet filter systems offer a very inexpensive option for the initial system itself, but each cartridge costs roughly as much as the Basic filtration system does, which isn't a very appealing option.
Knowing when to replace filters is another place where the differences between the Basic and Complete filtration system start to show. The Complete system has an LED light indicator to let you know that it's time to swap your filter, while the basic model does not. While it's not hard to get a sense of when your water isn't filtering as it was before, the light is still a helpful reminder.
You also need to take care with your filters and not run any water too hot through them. Temperatures over 100 degrees Fahrenheit break down the cartridge, meaning that you'll have to replace it more often. Be cautious of water temperature when you use it.
Cost
When it comes to water filters, faucet and pitcher systems are much less expensive than more complex under the sink systems. One point that makes Brita faucet filters such an appealing option is their affordable price point. Brita's official site lists the Basic filtration system at $18.99, while the Complete filtration us $29.99 for both color options.
As it stands, these prices are very inexpensive, especially for water filter systems. The problem arises when you need a replacement filter cartridge, which comes at the cost of $18.99, the same as the Basic system. When you get the basic model, you're mostly paying for a filter with a mount attached to it.
Whether or not this seems like a worthwhile investment is going to be up to your water and filter uses. If you need to filter a lot of water, this price may quickly add up and far surpass your starting cost. However, if you need just the occasional bit of water cleaned, then it may not seem that bad at all.
Public Perception
As a well-recognized brand in water filtering, it's likely you've heard of Brita before. When it comes to their faucet filters, they tend to garner pretty good reviews online. Many users enjoy the affordable price point and mention that they can taste the difference in their water quality, which is what they were looking for in the first place.
Two of the most significant problems that people find are the plastic sink attachment and the price of replacing filters. The first issue is easily solved, while the second one doesn't have much of a ready solution unless you purchase filters in bulk, though there's still a noticeable cost attached to that.
How It Compares
Brita may be a well-known brand, but other filters outclass it regarding faucet filter functionality. The PUR Ultimate Horizontal water filter, for instance, has full NSF-401 certification, meaning it can filter out a much larger variety of contaminants from your water.
The Culligan FM-25 faucet mount filter system has a much more durable design that is all metal, letting it blend in well with the rest of the sink. It also defaults back to unfiltered water automatically after you've turned off the water. This feature makes it very easy not accidentally to waste your filter life, plus the filter replacement price is $7—an amount you only need to pay every 200 gallons.
When you break down comparisons, Brita has the edge in providing a budget filtering system, but you may want to consider an upgrade if your home goes through a lot more water and needs something more consistent over time.
What We Think
Brita faucet filters aren't the most impressive thing on the market, but they are one of your most budget-friendly options, especially for people who don't need a permanent filtering solution. The fact that you can pick them up with very little investment wins points, as does the simple installation that connects to your faucet.
However, the cost of replacing filters is somewhat disappointing. Yes, other brands sell replacement filters for the same price but having it be the same cost as the Basic system is a bit of a let down for a budget purchase. If you plan on going through a lot of water, it may be worth it to invest in a different system.
We recommend Brita faucet filters for people who need a quick install for an affordable price, as well as people that don't go through an excessive amount of water on a regular basis. People who only need minimal filtration should do fine with this model, too—but if you have very contaminated water, a more powerful system will serve your needs a lot better.
When it comes to comparing the Basic and the Complete systems, we would recommend the Complete, if only for the different flow options. The filter indicator light is also a nice touch, plus it will feel like you're purchasing more than a filter cartridge with an attachment. However, if you want to spend a little more money on the initial purchase, you may find a better option with other brands.
Last update on 2022-09-25 / Affiliate links / Images from Amazon Product Advertising API